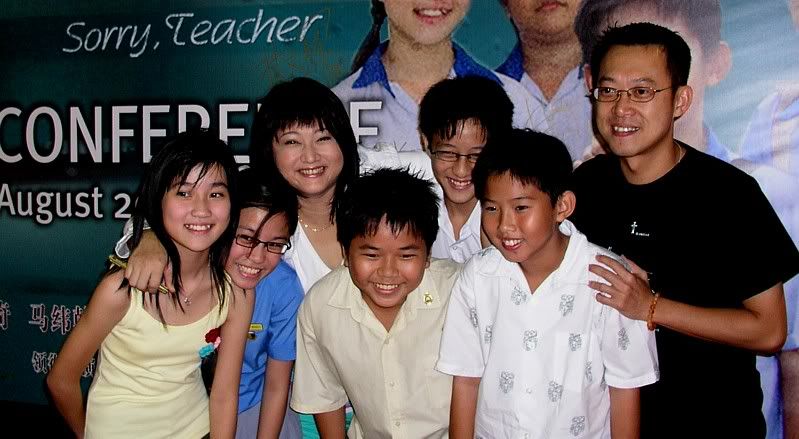 Innoform Media is proud to present their latest movie "Sorry, Teacher "with veteran Media Corp actress Chen Liping, and especially so to a hall full of Kong Hwa Primary School students last friday, 11 August 2006. Chen Liping's bubbly personality as the kind hearted teacher whose trademark use of "aiyoyo" has since etched her mark in the minds of many local television serial viewers, and now she is back in yet another teacher-student movie.
In "Sorry, Teacher", Chen Liping's character, Chen WanZhen, faces life-threatening brain cancer and as a compassionate teacher who often goes beyond the call of duty, she delays her much required operation in order to help the worst primary 6 class in the cohort with their studies. This film goes on to explore the different sets of problems that 5 kids from that class have and how Chen WanZhen attempts to help each one overcome those problems throughout her biggest life crisis.
As proclaimed by the MC, who hosted the show, tears are bound to flow since most of the cast of the show did well enough to tingle those tear ducts of most viewers. It also effectively presents the lack of communication between students and teacher, amongst friends and even children-parents paradigm that echos the likes of I Not Stupid 2.
Judging from the responds of the children in the hall, "Sorry, Teacher "look set to be very popular with the auidence whom the movie is targeting as the children responded to most of the humourous scenes with collective laughter and collective gasps during the climatic ones. With many teacher-student series and movies under her belt, "Sorry, Teacher" look set to help cement Chen Liping's repuation as one of the most popular and well-loved actresses to play the teacher role in Singapore.
"Sorry, Teacher" Dvd and Vcd is out in stores now.