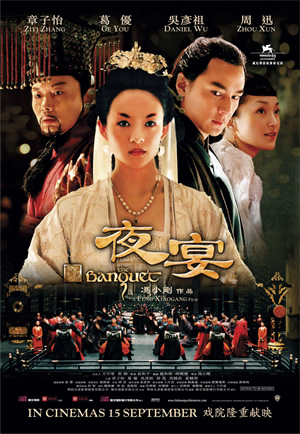 Hong Kong, Sept. 28, 2006 -- Co-produced by Hong Kong's Media Asia Films and China's Huayi Brothers, the US$20m (HK$160m) epic "The Banquet" has been officially selected as Hong Kong's entry to the 79th Oscar's Best Foreign Film category, as announced today at the press conference held by the Federation of Motion Film Producers of Hong Kong.
The film is currently taking the theatres by storm, accumulating a phenomenal US$13m (HK$100m) box office across Asia, including US$11m (RMB90m) in China, US$200,000 (NT$31m) in Taiwan, US$200,000 (RM$0.8m) in Malaysia and US$400,000 (S$0.8m) in Singapore. The star-studded film is on its way to becoming one of the top grosser in Asian cinema this year.
More good news for "The Banquet" was announced at the press conference: it has also been officially selected for this year's Asia Pacific Film Festival (APFF), scheduled to be held in Taipei on Oct. 21. The film will compete against other Asian and Hong Kong entries, including "Wait 'Til You're Older", the second-highest grossing film in Hong Kong last year. Both titles were produced by Media Asia Films, an APFF regular that has previously entered the festival with "Infernal Affairs" and "Initial D".
The talents behind "The Banquet" are no strangers to kudos. They include China's top-grossing director Feng Xiaogang, internationally acclaimed action choreographer and producer Yuen Wo-ping ("The Matrix" trilogy, "Kill Bill"), Oscar-winning production designer Tim Yip and composer Tan Dun (both from "Crouching Tiger, Hidden Dragon"). The stellar cast includes Hong Kong Film Awards winners Ziyi Zhang ("2046") and Zhou Xun ("Perhaps Love"), Cannes-winning actor Ge You ("To Live") and Golden Horse winner Daniel Wu ("Divergence").
Source: Media Asia Distribution & Shaw