(SAN SEBASTIAN, SPAIN, 26 September 2006) Audiences at the 54th San Sebastian International Film Festival greeted the European premiere of Singapore Dreaming with sustained applause, right through the film's end credits. Singapore Dreaming played to a full house at its premiere, and its remaining 2 public screenings for the 27th and 28th of October are also sold out.
After the screening, members of the audience congratulated the directors, WOO Yen Yen and Colin GOH, and the actors, Richard LOW, Alice LIM, Serene CHEN and Dick SU, on their layered and moving portrayal of the lives of Singaporeans, and the themes of patriarchy and the influence of capitalism in today's modern Asian societies. To everyones delight, many of the younger audiences also came up to the actors to tell them how moved they were by the story of Singapore Dreaming.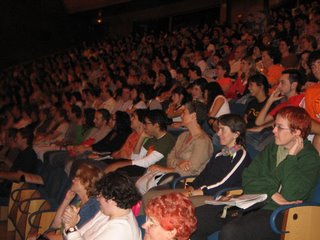 Executive produced by Dr. Woffles WU, written, directed and produced by the husband-and-wife team WOO Yen Yen and Colin GOH, SINGAPORE DREAMING has also received international recognition, as it is the first Singaporean film to be selected for competition in the Zabaltegi section of the prestigious San Sebastian International Film Festival. It is 1 of only 3 Asian films selected to participate in the New Directors section and it is in competition for the festiva's Montblanc Screenwriters Award and the Altadis-New Directors Award.
Says Woo Yen Yen, "We are extremely excited and grateful that the film was selected for competition at San Sebastian. It means so much for a small film like ours. The warm reception we had at the screening today is extremely encouraging because it shows that how family members relate to one another and shape each other's dreams are experiences that go beyond cultural differences."
Family relations are emotionally very complex, and we needed great actors to pull it offadded Colin GOH. And I think that with Singapore Dreaming, we were very fortunate to work with what is in my opinion, the strongest ensemble cast ever assembled in Singapore cinema history. They brought both intelligence and soul to their craft, and the overwhelming reaction from today's audience at our premiere proves the depth and sincerity of their acting.
SINGAPORE DREAMING is the highest grossing Singapore film not made by government-owned MediaCorp Raintree Pictures or popular TV comedian Jack Neo since 1999. It has been dubbed the best film (Singapore) has produced in a decade by writer and TODAY film critic Neil Humphreys.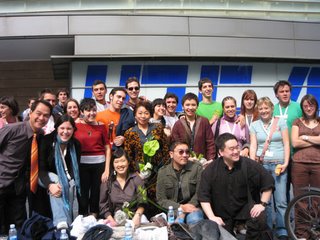 Singapore Dreaming is a poignant, yet darkly humorous story about a typical Singaporean family coming to grips with their aspirations. It weaves a layered and moving tale about loss, ambition and the search for what really matters in life.
The film stars actor
Richard LOW
(
winner, Best Supporting Actor, Star Awards),
Serene CHEN
(
winner, Best Supporting Actress and Best Actress nominee, 2005 Life! Theatre Awards),
LIM
Yu-Beng
(
winner, Best Actor, 2005 Life! Theatre Awards),
Alice LIM
,
YEO Yann Yann
and
Dick SU
.
Singapore Dreaming is also the first collaboration between Singapore and New York filmmakers: directed, written, directed and produced by WOO Yen Yen & Colin GOH, its beautiful visuals are the work of respected New York-based director of photography Martina RADWAN, whose film Ferry Tales was nominated for an Academy Award in 2004, while its evocative musical score is the work of acclaimed Singaporean composer Sydney Tan who has produced and arranged for Kit Chan, Dick Lee, and Singapore Idol-winner Taufik Batisah. Rounding off this international collaboration are New York-based editor Rachel KITTNER (who co-edited the 2006 Oscar-nominated documentary Street Fight) and sound designer Paul HSU, whose most recent projects include Ang Lee™ The Hulk, Barry Sonnenfeld™ Men in Black II and The Night Listener, starring Robin Williams. The film was executive produced and co-produced by renowned plastic surgeon Dr Woffles WU.