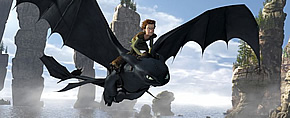 From the studio that brought you "Shrek," "Madagascar" and "Kung Fu Panda" comes "How to Train Your Dragon." Set in the mythical world of burly Vikings and wild dragons, and based on the book by Cressida Cowell, the action comedy tells the story of Hiccup, a Viking teenager who doesn't exactly fit in with his tribe's longstanding tradition of heroic dragon slayers.
Catch the new poster image and trailer right here!
How To Train Your Dragon (also in 3D) opens here on 25th March.