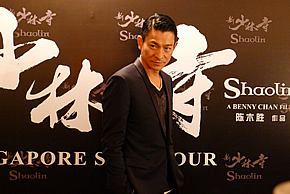 SHAOLIN 《新少林寺》
collected an outstanding S$ 2.254 million at the local box office as of 7 February 2011 and become Andy Lau's highest grossing film in Singapore! The movie opened in Singapore on 21 January 2011. SHAOLIN surpasses previous Andy Lau's movies at the Singapore box office including,
DETECTIVE DEE AND THE MYSTERY OF THE PHANTOM FLAME (2010)
,
THE WARLORDS (2007)
,
PROTÉGÉ (2007)
etc. Andy Lau says "It is heartening to receive such good news on the box office. I want to thank the audience for their support. SHAOLIN is a very sincere production. I hope that Singapore audience will continue their support and catch the movie in cinemas." SHAOLIN also soars at the box offices in other parts of Asia. The movie collected more than HK$16.5 million in Hong Kong and more than RM$5 million in Malaysia.