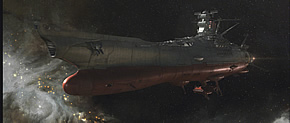 Of course you have, on other websites or media but as requested by the local distributor, we are not allowed to feature graphical images of Takuya Kimura (the man known for his wacky Gatsby ads and one fifth of the immensly popular SMAP) on the poster, stills and trailer even though he is the leading star of his latest movie,
SPACE BATTLESHIP YAMATO
. Perhaps this is a clause laid down by his overprotective Japanese management or the company holding the original rights. Whatever the reason, this will only hurt the sales of this space epic feature and isn't it ironic when you have a hot selling face for your product onhand and you can't use it at all. Pity.