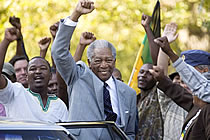 Warner Bros. Pictures received a total of 9 nominations in the film categories for the 67th Annual Golden Globe Awards including
INVICTUS
Best Director – Clint Eastwood, Best Actor (Drama) – Morgan Freeman, Best Supporting Actor – Matt Damon. THE BLIND SIDE Best Actress (Drama) – Sandra Bullock,
THE INFORMANT
Best Actor (Comedy or Musical) – Matt Damon Best Original Score – Marvin Hamlisch
THE HANGOVER
Best Picture (Comedy or Musical). The presentation ceremony will be held on 17 January 2010.