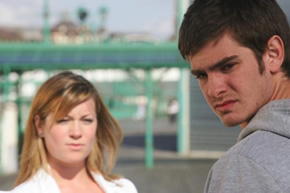 He has definitely big shoes to fill. After a comprehensive worldwide casting search, Andrew Garfield (left)has been chosen to portray Peter Parker when Spider-Man swings back onto the screen in 3D on July 3, 2012. The new film will begin production in early December directed by Marc Webb from a screenplay by James Vanderbilt. On selecting Garfield, director Marc Webb said, "Though his name may be new to many, those who know this young actor's work understand his extraordinary talents. He has a rare combination of intelligence, wit, and humanity. Mark my words, you will love Andrew Garfield as Peter Parker."
Garfield is fast becoming one of the most respected and sought-after young actors working in the industry today. In a short career, spanning only five years, he has already been directed by, and starred alongside, some of the greatest names and received a BAFTA for a role that won him international praise. Garfield most recently worked with director David Fincher on the upcoming film The Social Network. He previously starred for Spike Jonze on his robot love story I'm Here, which premiered at Sundance this year. He plays the lead male opposite Keira Knightley and Carey Mulligan in Mark Romanek's Never Let Me Go, due for release later this year.
Other notable screen credits include Terry Gilliam's
The Imaginarium of Dr Parnassus
playing opposite Christopher Plummer, Johnny Depp, Colin Farrell, Jude Law and the late Heath Ledger, Robert Redford's
Lions For Lambs
, where he starred alongside Redford, Tom Cruise and Meryl Streep; Revolution Films' "Red Riding Trilogy - 1974" directed by Julian Jarrold, where he lead a stellar cast including Rebecca Hall and David Morrissey, and his unforgettable portrayal of a young ex-con in John Crowley's
Boy A
, for which he earned the best actor BAFTA in 2008.