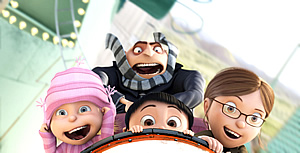 Four major 3D animations have been released so far including Despicable Me which is opening this week. Let's do a recap which one got the highest score from our reviewers.
1. TOY STORY 3
- 5 Stars
(Perfect! according to John).
2. HOW TO TRAIN YOUR DRAGON
- 4.5 Stars
(A near-perfect, sensationally thrilling action adventure that you should not and must not miss according to Gabriel).
3. DESPICABLE ME
- 3.5 Stars
(A family friendly villain who's not too despicable according to Stefan).
4. SHREK FOREVER AFTER
- 2.5 Stars
(What the Shrek just happened? No worries, this one is just another forgettable sequel in the flagging franchise according to Linus). And what's your favourite?