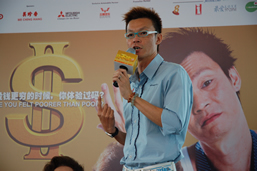 2359 stars Mark Lee (left in a MX file photo), one of Singapore's most successful movie stars and comedian cum host. Producedby multiple award-winning director Eric Khoo and directed by Gilbert Chan, who also co-directed the movie, Love Matters with Jack Neo.
The title of the movie is inspired by the term "2359" which is commonly used in the army to represent the last minute before midnight. As the story goes, the creepiest time of the day is at the stroke of midnight, and whoever dies at that time will not rest in peace and their spirit will stay in the mortal world to seek revenge. 2359 is based on a true story that happened in Pulau Tekong in 1983. During his national service, Jeremy's platoon mates started bizarrely dying one by one, and each time, an old lady always appears where the bodies are discovered. Jeremy starts an investigation into the deaths and the old lady, and discovers a dark and horrible secret of the island…
The movie is slated for theatrical release in both Singapore and Malaysia at the end of the year.