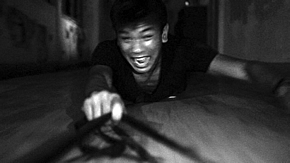 Local horror movie
HAUNTED CHANGI
debuted in cinemas
yesterday with a strong box office showing of S$48,992 on the first day with 22 prints in Golden Village, Cathay, Eng Wah and Filmgarde cinemas islandwide.
The film was the number one film at most local cinemas yesterday, beating out fellow openers
Vampire Sucks
and
Going The Distance
, as well as holdover titles
Grown Ups
and
The Expendables
. Rarely have local independent films ever beat out major Hollywood films at the Singapore box office, given the significantly larger marketing and publicity budgets of the major titles.
Haunted Changi filmmakers commented, "We wanted to tell a story that all Singaporeans proudly say we own it. Old Changi Hospital is our very own famous haunted house. Small team, low budget with no big studios supporting it, no famous names. The big star is old Changi Hospital itself. Overseas markets are looking at how Singaporeans are supporting this movie. If we can support local films, we won't need to look for old castles or other people's Amityville Horror houses to find inspiration. Who knows, if HAUNTED CHANGI does well here, you may start seeing local films in Hollywood cinemas! This happy start to the box office is because of our fans. It's all because of you, thank you!"